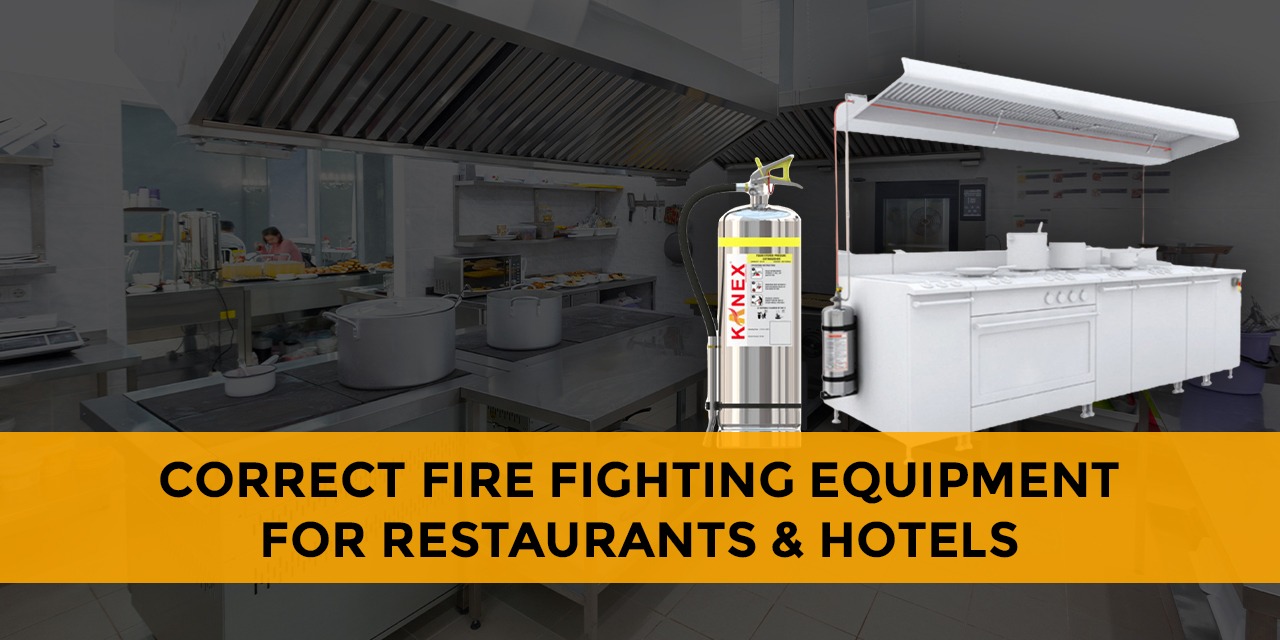 Correct Fire Fighting Equipment for Restaurants & Hotels
Safety is the most important thing whether it's the hotel industry or restaurants. The hotel or food industry, like other industries, must adhere to health and safety standards. But it is a real concern for the safety and comfort of customers and workers that distinguishes a great hotel from a poor one.
Fire safety should be a high priority at restaurants, cafes, and other eating businesses because kitchens are always at risk of fires caused by cooking equipment. As a result, having the best fire fighting equipment and performing preventative maintenance is critical. Electric appliances, exposed flames, hot cooking equipment, the likelihood of grease fires, and cleaning chemicals are all potential ignition sources for a deadly fire.
Fire prevention and protection are critical for all restaurants; keep this key fire safety equipment in mind to keep your establishment safe from a fire.
Fire Extinguishers for Restaurant
In the case of a fire, every restaurant and hotel must have a fire extinguisher. Class K or F extinguisher should be installed in the kitchen because it is designed primarily for kitchen fires including grease, fats, and oils. Restaurants should also have Class ABE extinguishers in case of other fires, such as paper, wood, or electrical fires in spaces other than the kitchen. We are available with every type of Fire extinguisher. Also, we have specially designed Kitchen Fire Extinguisher.
Kitchen Fire Suppression System
Commercial kitchens, whether in a chain restaurant, a hotel, or hospital cafeteria, or the corner diner, all have the ingredients for a quick fire – grease and high heat – putting people and property at risk. We provide equipment like Kitchen Fire Suppression System that is specifically designed to safeguard commercial kitchens against fire in a timely and effective manner. We provide a one-of-a-kind approach to fire protection: whole system solutions. With this strategy in mind, we developed a comprehensive fire safety package suitable for Commercial Cooking Appliances.
Fire Blanket
A fire blanket will also be an essential item in your restaurant kitchen. These operate on pan-fires and provide a quick way to extinguish a fire without creating too much inconvenience.
Fire Sprinkler System
Fire sprinklers have been shown to reduce fire damage by up to 60%. They send out water jets to extinguish the fire immediately, ensuring that it does not spread to other areas of the eateries.
Heat and Smoke Detectors
A network of detectors is required throughout the restaurant. Heat detectors are ideal for use in the kitchen because they are unaffected by smells or steam. As it detects excessive temperatures, it should not be placed near a heat source. Installing smoke alarms in other areas, such as where your clients eat, provides even more safety.
If you're still unsure about what fire safety equipment you need at your hotel or what steps you should take to ensure the safety of your staff and employees, Kanex Fire can help with Risk Assessments, Staff Training, Fire Audits, Fire Protection, and other services.
Please contact us for additional information on how to keep your hotel and accommodations safe from fires.