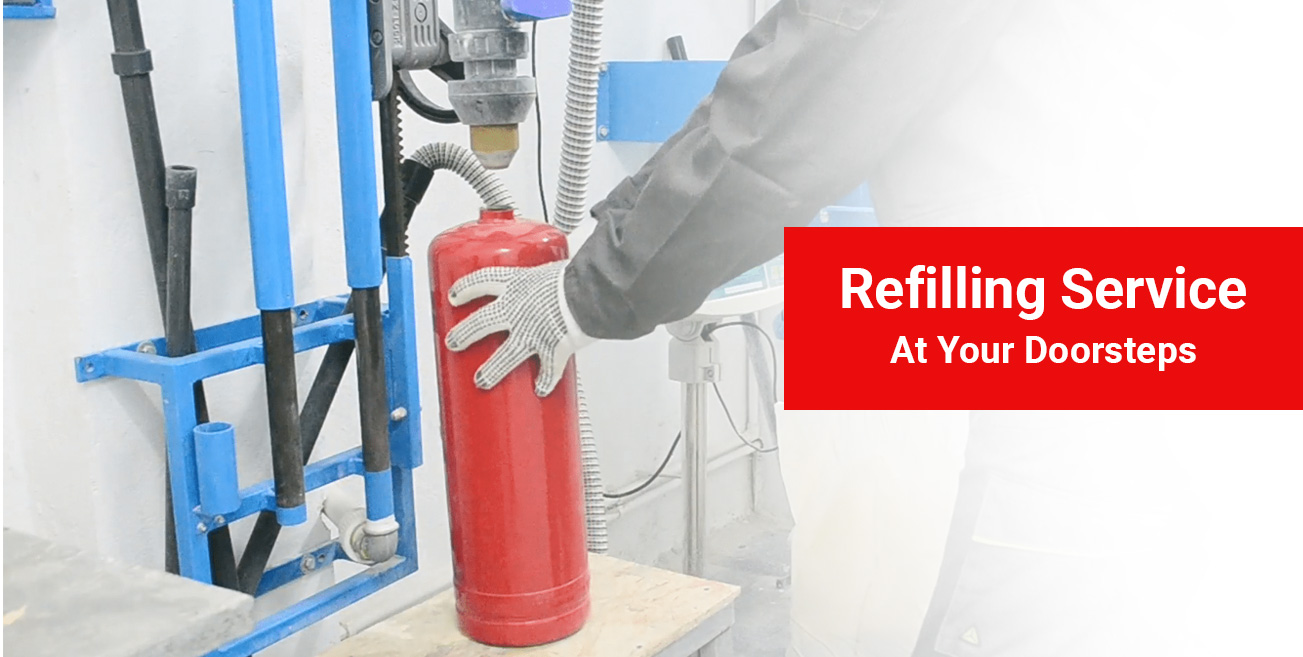 Fire Extinguisher Refilling Service at Your Doorsteps
We all know the hazards of fire. The devastation and loss caused by a fire in terms of human life and money can not be ignored or underestimated. We see and hear about the damages and destruction caused by the fire on a daily basis. Nobody likes to lose anything because of a fire but still, sometimes we have no control over it. All we can do is be always ready to fight it. So we need to be always prepared for any eventuality involving fire. And yet, sometimes we ignore the significance of having a filled and tested Fire Extinguisher at our premises. You can't undermine the value of having ready to use Fire Extinguishers at your facility. Whether it is a home or an office or a factory, a fire extinguisher is something that we can't afford to neglect.
So, in this context, a Fire Extinguisher has become an essential apparatus to have in any kind of set up. Whether you are in an office or at your home or in any industry, a fire extinguisher is a must-have to contain and minimize the loss caused by any untoward incident due to fire. But having fire extinguishers is not enough. We need to make sure that they are filled at all times so that when the need arises, we are fully prepared. So, a periodic refilling of the fire extinguishers becomes not only necessary but must attain the utmost importance. Fire Extinguisher Refilling at home is as important as fire extinguisher refilling at the office. We can't undervalue any of these.
Many of us would think that Refilling a Fire Extinguisher is a cumbersome process or it may take a lot of time because you have to carry the empty extinguishers to the refilling station for refilling. But that is not correct. Now you can have Fire Extinguisher Refilling Services at your doorsteps. You don't need to carry the empty extinguisher all the way to the refilling station. You have an easy fire extinguisher refilling option. The doorstep service is available for both, fire extinguisher refilling at home as well as fire extinguisher refilling at the office.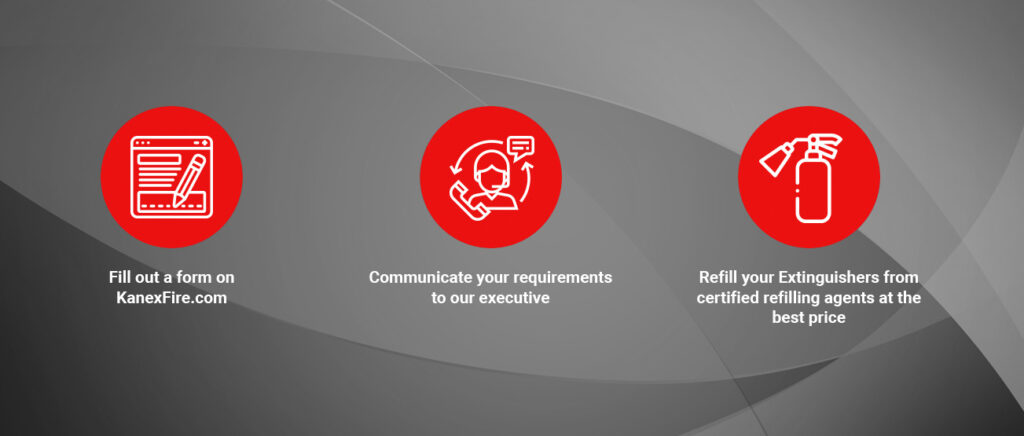 Kanex provides easy fire extinguisher refilling at your own place for all Types of Fire Extinguishers. Whether you need to refill ABC fire extinguisher or Clean agent fire extinguisher, Kanex will provide the refilling services at your doorsteps. Fire can happen anytime, anywhere. So all the measures have to be in place to control it before it causes much harm. You can ask for our fire extinguisher refilling service anywhere in India. We are available at all locations across the country. And it is not only about refilling of fire extinguishers but we also ensure the inspection of fire extinguishers every year. So you can just relax and have a hassle-free refilling of your fire extinguisher at your doorsteps.
So do not wait for something untoward or unpleasant to happen before you rush to refill your fire extinguisher. You must refill before the disaster happens. Saving your home and office from loss by fire is in your hands. Just give us a call and benefit from our refilling services at your doorsteps.