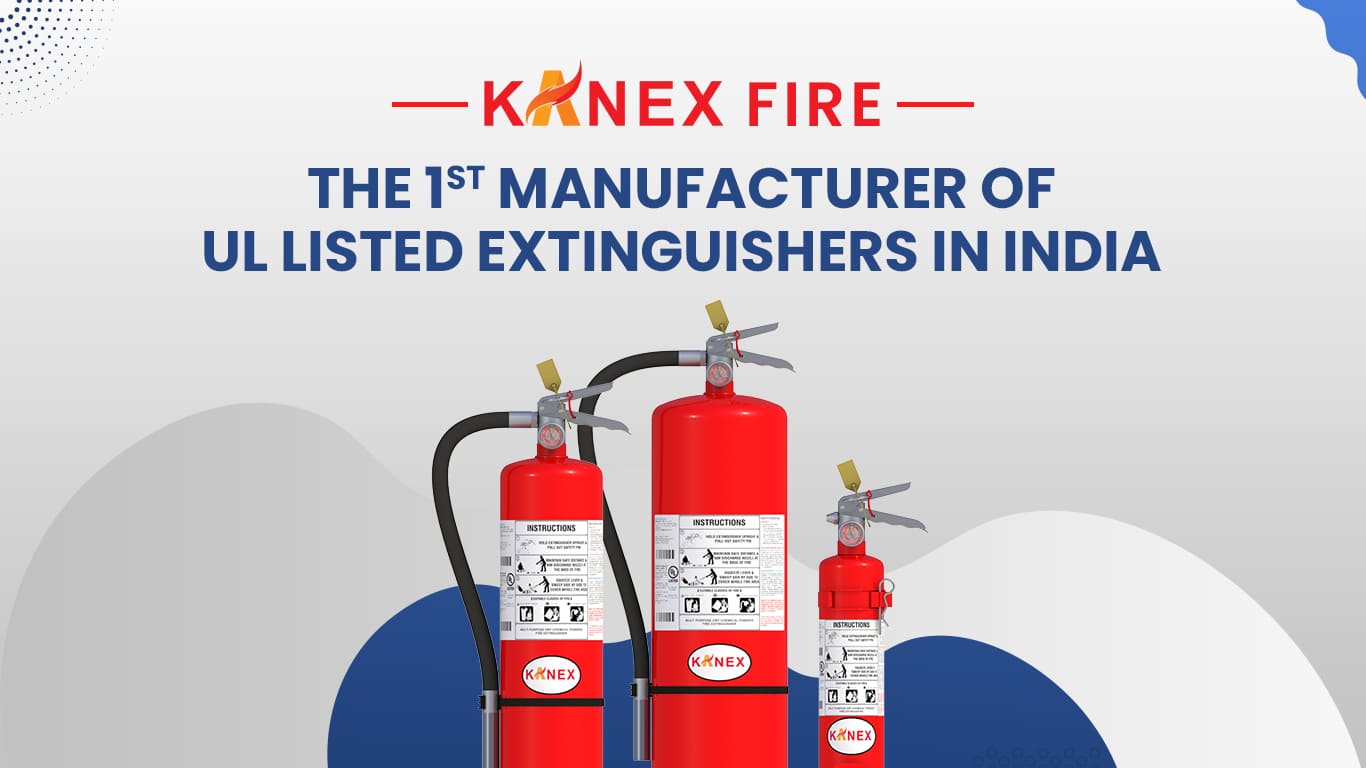 Kanex Fire Feels Proud to Be the 1st Manufacturer in India to Offer UL-Listed Extinguishers
Fire outbreaks have become a common thing across industries. Whether you are associated with hospitals or restaurants, offices, or institutions like schools or colleges, fire accidents can take place at any point of time.
During a fire outbreak, the fire needs to be suppressed immediately, or else it might lead to a serious disaster. To douse the fire, fire extinguishers to fire suppression systems could be of great help. This is where Kanex Fire stands out. We are proud to have come up with Lithium Ion stored fire extinguishers.
Why Kanex Fire?
Well, Kanex Fire is one of the leading manufacturers of fire safety devices in India. We are proud of the fact that we have been successful in offering a wide range of fire extinguishers that can deal with different classes of fire, such as Class A, B, C, D, and electrical fires. Apart from fire extinguishers, we can also provide fire protection equipment, such as Fire Suppression System, and more. We aim to make use of cutting-edge technology and innovative solutions for dousing any kind of fire outbreak and protecting the assets.
Announcing The Launch Of Our New Products
We, Kanex Fire are extremely proud to have launched a new line of fire extinguishing devices, such as the UL Listed Fire Extinguisher & Li-Ion fire extinguisher.
Know About Li-Ion Fire Extinguishers
A lithium-ion battery fire extinguisher comes with an AVD fire extinguishing agent. This is suitable for extinguishing lithium battery fires and prevents it from spreading further; especially when applied as a mist. As a renowned brand, we work with a team of passionate staff and come up with fire-fighting equipment as per global standards.
Know About UL-Listed Fire Extinguishers
UL Listed Fire Extinguishers are fire extinguishers that have been approved by the prestigious global body UL (Underwriters Laboratories). The UL is a governing body for testing components of a machine or a system to ensure it's suitable for industrial use.
A UL-Listed fire extinguisher means that the UL has carried out tests on certain representative samples of a product for considering if the product is going to meet specific requirements. It must be kept in mind that the UL rating is the nationally recognized standard for safety.
Owing to our deep knowledge, we are now offering a new line of fire extinguishers, such as Li-Ion Fire Extinguishers to Multi-Purpose Dry Chemical Powder Type Fire Extinguishers. The MAP powder extinguisher is most suitable for use across various areas. Our Dry Chemical Fire Extinguisher or our MAP Powder Fire Extinguisher has received the approval of the UL body.
With our UL-listed Dry Chemical Fire Extinguisher, it's very easy to douse Class A, B, and C fires. The use of specially siliconized mono ammonium phosphate makes it easy to suppress the fire.
Why Go For UL-Listed Fire Extinguishers?
Kanex's new range of UL Listed Fire Extinguishers is completely safe for use across homes or warehouses, and more. Moreover, our extinguishers are made with high-quality materials or components that range from anodized aluminum valves, steel cylinders, special nozzles, and more. Each extinguisher is tested so that it can work during harsh conditions and remain corrosion-resistant. Well, our commitment to quality helped us to offer the best fire safety devices. Our new line of fire extinguishers has successfully achieved high fire ratings.